The Young and the Restless recap for Wednesday, September 20, 2023, brings Lily pushing Victor to give her the details of who bought his Chancellor-Winters shares.
Young and the Restless Recap Highlights
Also in this episode, Jack sees that Billy went behind his back with Devon. Diane tries to enlist Phyllis's help in reuniting their children. Tucker calls Phyllis's bluff. Finally, Kyle and Summer work together for Harrison's sake. Now let's dig deeper into what happened.
Young and the Restless: Silent Investor
Lily (Christel Khalil) and Devon (Bryton James) met at her place. She told him Victor sold his share of Chancellor-Winters to a third party. They decided to try to get information from Victor.
As they talked, Devon got a text from Billy, and he let Lily know the details of the situation. He admitted that he really couldn't give Tucker the benefit of the doubt. He decided he wanted to know the truth about what happened with Tucker and Ashley, though.
At Jabot, Jack (Peter Bergman) argued with Billy (Jason Thompson) about dragging Devon into their beef with Tucker. Billy was for it, but Jack didn't want to use Devon that way. Jack urged Billy to lay off the idea, but Billy went rogue and texted Devon for a meeting.
Later, Devon and Billy met at Society. Billy told Devon that Tucker was out of control…again. Devon seemed skeptical, so Billy explained that he and Jack worried Tucker planned to go after Jabot on his own after his and Ashley's blowup. Devon admitted he thought it was just a marital spat, and he wondered why Billy was talking to him about it.
Lily went to see Victor (Eric Braeden) at Newman Enterprises. After some coyness, Victor explained that he'd only bought his stake in the company to help Lily and Devon heal their rift. She wanted to know who the mystery investor was, but Victor couldn't divulge the details of the new secret investor. He urged Lily to be patient because she'd find out in due time.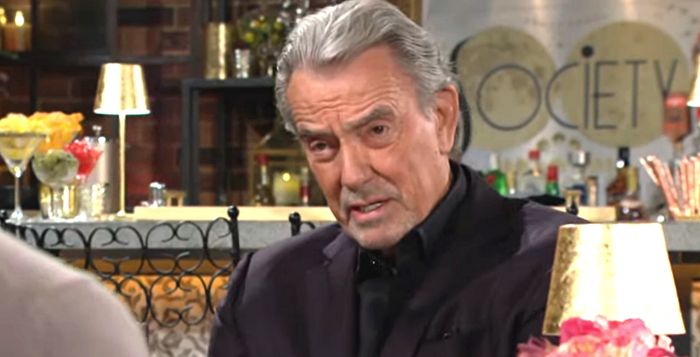 Young and the Restless Recap: Meddling
At the GCAC bar, Diane (Susan Walters) ran into Phyllis (Michelle Stafford). Diane tried to make small talk, but Phyllis wasn't interested. Of course, Diane tried to get Phyllis to work with her to reunite Kyle and Summer, but Phyllis said she'd promised not to get involved. Diane wasn't happy, and as she left, she saw Tucker (Trevor St. John) and made a snarky comment about their meeting.
Tucker wanted an answer immediately whether Phyllis was in or out, but she didn't budge on needing to know the company. She assumed Tucker was going after Jabot, but he wasn't. Instead, Tucker wanted access to Billy's personal finances, but he wouldn't tell Phyllis why. Ultimately, he threatened to find another tech genius. Phyllis stopped him from leaving, and she asked for half the money upfront. She'd be out of the plan as soon as she gave him access to Billy's financials, and Tucker agreed.
Later, Diane saw Jack at work, and she updated her husband on Phyllis refusing to help reunite Kyle and Summer. Diane worried that Phyllis thought Summer was better off without Kyle because of her. Jack let his wife know that he agreed with Phyllis not getting involved in their children's marriage. After some discussion, Jack suggested a nice, quiet meal with Diane as a distraction. Jack and Diane walked into Society, and Jack saw Billy and Devon at the bar. He let his wife know that Billy was going behind his back again.
Y&R Recap: Co-Parenting
Kyle (Michael Mealor) and Summer (Allison Lanier) had coffee at Crimson Lights. They talked about Harrison's custody agreement, and things seemed less contentious between them. Kyle reaffirmed that Summer was Harrison's mom, and the parents wanted to do right by their son.
Summer wanted to know how Kyle was doing with all the changes at Newman Media. He said he was okay for now, but he admitted that Nikki made Audra end her affair with him. Summer was happy that Kyle and Audra were over since nothing good could come from it.
She apologized for hurting Kyle so badly that he was vulnerable to Audra's advances. Kyle didn't know she'd felt responsible for him getting involved with Audra. Summer urged Kyle to return to Jabot, where he belonged.