"Blue Bloods" has become such a procedural juggernaut that it can be quite surprising to look back at the show's humble beginnings, when its leading cast wasn't completely set in stone and the production was still inking out all the finer details. As it happens, leading actor Tom Selleck, who portrays police commissioner Frank Reagan, has been surprisingly candid about his involvement with "Blue Bloods" right from the get-go. In fact, the star has spoken about how he ended up joining the show on several occasions.
Based on various interviews and quotes, it doesn't seem like joining the cast of the CBS procedural was necessarily that much of a tough sell for the "Magnum PI" star. Selleck was never concerned about "Blue Bloods" airing on Friday nights, for instance. However, one thing that was extremely important to the actor and crucial as to whether or not he'd move forward with the show was finding out where exactly it would be filmed over the course of its run.
Selleck knew it was worth it to commit to Blue Bloods' filming location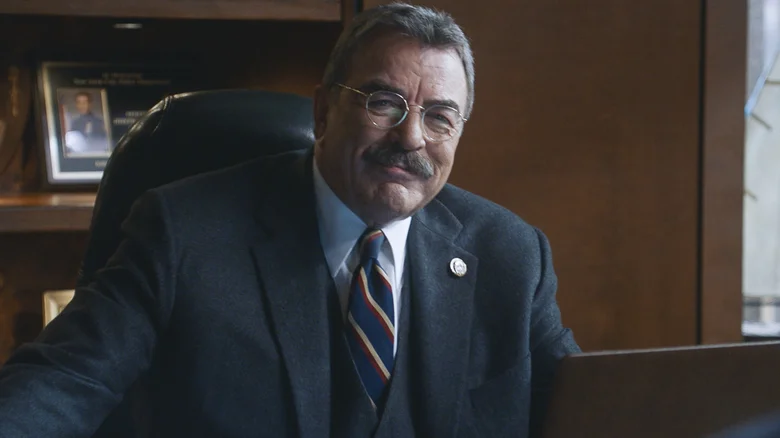 In a 2010 interview between Tom Selleck and Collider, the outlet asked the actor about his time living on-location for various productions, including Hawaii for the original "Magnum PI" and New York City for "Blue Bloods." As the star told it, learning where "Blue Bloods" was going to be filmed was one of the biggest factors in whether or not he would take the job. "The first question out of my mouth was, 'Where are you shooting it?,' and then we tried to discuss how that would work," Selleck recalled. "It never works the way you plan it, but that wasn't the attraction of it."
Of course, the "Blue Bloods" team eventually persuaded Selleck to sign onto the show, and he noted that the on-location filming ended up doing wonders for the show's authenticity. "It's really hard to argue that this isn't a better show, shot on the streets of New York," Selleck said. "That excited me."
The filming location for "Blue Bloods" has worked out in the long run, too. To this day, even more than a decade after the series first began, it's still filming new episodes on-location in New York. Landmarks like the Reagan house, which actually exists in real-life, have also become staples of the series' identity. In the end, "Blue Bloods" is a New York show through and through — and that's perfectly fine by Selleck.