Frank Oz is revered to fans just as much as a puppeteer for many of the beloved "Muppets" and "Sesame Street" characters as he is for being the voice of Yoda in the "Star Wars" franchise. But he has also directed some of our favorite screwball comedies like "Dirty Rotten Scoundrels," "What About Bob?," and "Death at a Funeral." When he decided to direct the LGBTQ+-themed comedy "In & Out" in 1997, he wanted it to be a screwball comedy, but he didn't want to offend anyone. "I wanted to have a sense of acceptance of the people involved," he told IGN in an interview. "I was very much on guard to make sure that the tightrope was walked properly."
The result is a comedy starring Kevin Kline as high school teacher Howard Brackett, whose life is thrown into disarray when a former student tells the world Howard is gay during the Academy Awards. The reveal leaves Howard and his fiancee Emily (Joan Cusack) aghast, since neither were aware of this particular detail and they're getting married in three days.
Debbie Reynolds and Wilford Brimley co-star as his parents, while his brother Walter is played by Gregory Jbara, and Tom Selleck plays reporter Peter Malloy. If you're a "Blue Bloods" fan, you likely already know at least one actor from the film who appears in the popular CBS police procedural. But the series actually proved to be a mini-"In & Out" reunion, with one of the film's co-stars even revealing that without the film, he may have missed out on appearing in "Blue Bloods" alongside Selleck.
Tom Selleck recommended Gregory Jbara for the role of his right-hand man in Blue Bloods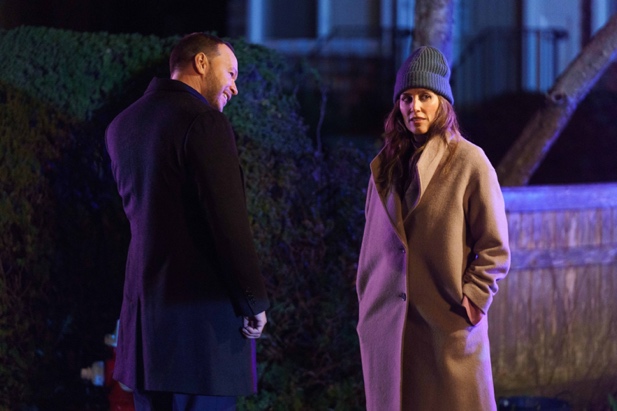 Gregory Jbara has played Garrett Moore in the hit CBS show "Blue Bloods" since its first season. Moore is the NYPD deputy commissioner of public information, and the chief of staff to Frank Reagan, who is, of course, played by Tom Selleck. He's considered a friend and trusted advisor to Reagan, and was a reporter before becoming deputy commissioner.
While it would be a fun enough coincidence that the two former "In & Out" co-stars are now working together on "Blue Bloods," it turns out that the situation is anything but. In fact, while talking about his "Blue Bloods" role, Jbara told Starry Mag, "The truth is I got hired because Tom said, 'I want Greg Jbara to play the role.' Tom and I had over twenty years of professional history together, having started working together on the film "In & Out…'"
Jbara also keeps busy with roles outside the show, voicing General Kan in 2017's "The Mice War," and he recently joined the cast of "Oppenheimer," Christopher Nolan's upcoming film co-starring Cillian Murphy, Emily Blunt, and Gary Oldman, among many others. Jbara doesn't take his job on "Blue Bloods" for granted, though, and feels grateful that Selleck "considers me someone that he likes to work with and has repeatedly called on me and offered me opportunities."