DAYS spoilers made a point of letting us know that Nicole's baby is due in January, in the same episode as Eric told Belle he and Sloan were planning to adopt a child. Has there ever been an uneventful childbirth in Salem? Much less an uneventful adoption? How these two paths are going to cross…in tragic ways.
DAYS Spoilers Wild Speculation: Mother Knows Best
Meanwhile, over in England, Ava (Tamara Braun) has decided that Susan (Stacy Haiduk) is sending her psychic messages. Because Susan is one with the universe. Or something. Which is why we can assume that when Susan comes back from the dead, she will still be enough "one with the universe" to let EJ know that the baby his fiancée is carrying isn't his. Since EJ (Dan Feuerriegel) always believes his mother — and well, he should, she's the only one who always has his best interests at heart – he will do some digging and discover, yup, Susan is right. What to do now?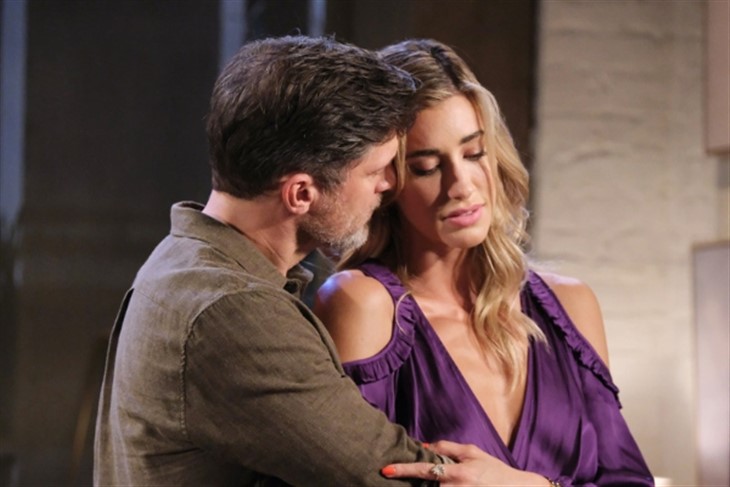 Out of Sight, Out of Mind
Not knowing that Sloan faked the results, EJ will blame Nicole (Arianne Zucker). He'll assume she played him. And he will want revenge. What better way to get back at Nicole than by taking away the thing she wants most — her child? He's not going to kill the tot. He's not a monster. But he does want the little guy gone. Hey, look who is in the process of adopting! It's Sloan and Eric (Greg Vaughan)!
Days of our Lives Spoilers: Good Deeds
Heck, knowing EJ, he'll even convince himself he's doing a noble thing. The boy will be raised by his biological father. Something Nicole actively tried to prevent. EJ is the hero, here. Eric will thank him one day. So will Nicole. She wouldn't have wanted to be tied to Eric for life — would she?