DAYS spoilers for Monday, September 25, 2023, revive the classic rivalry between Vivian and Kate. This is a showdown you will not want to miss!
Days of our Lives Spoilers Highlights
Vivian (Louise Sorel) is up to no good…as always, but Kate (Lauren Koslow) is not putting up with it…as always. Kate isn't scared to go toe to toe with the baddie! She squares up and prepares to give Vivian a run for her money!
Will Vivian be phased? Probably not. She'll deal with Kate and then go about her day turning this town upside down. She's on a mission to get her way and needs at least one ally on her side. Vivian drops the drama with Kate and moves on to harassing Alex (Robert Scott Wilson). Can she lure him over to the dark side?
DOOL Spoilers: Brand New Information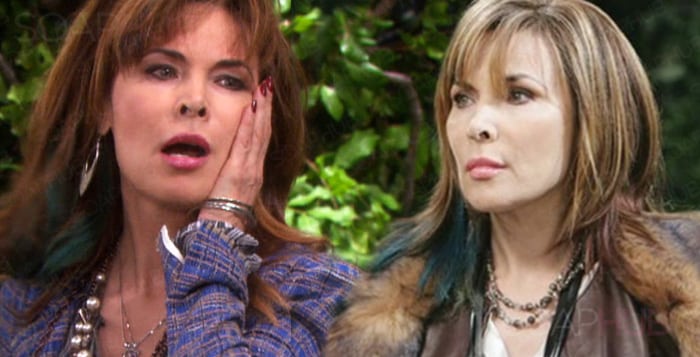 Meanwhile, Maggie (Suzanne Rogers) and Justin (Wally Kurth) learn something new and shocking about Victor (John Aniston) when they read through his will. This jaw-dropping revelation will turn at least a few worlds upside down.
What could it be? What has Victor been hiding all these years? He has a secret he swore to take to his grave, and boy, did he mean it! Victor is a man of his word, after all. It's just too bad no one knew any of this before now.
Days of our Lives Spoilers: A Web Of Lies
Speaking of secrets, Chloe (Nadia Bjorlin) overhears a whopper. She's in the right place at the right time, but will she do the right thing with the intel? Especially considering it has to do with her fiancé? She wouldn't want to deceive Xander (Paul Telfer), would she?
As for Xander, expect to see him and Sarah (Linsey Godfrey) have it out. Tensions run red hot when these two are in the same room. Will the guilt of lying about baby Victoria become too much? Sarah should know all secrets have a way of coming out eventually.